Live OEE

OEE is the PULSE of your business
OEE Real Time System

Welcome to our web site,

This site is a portal for our clients to login to view their  production line data , graphs and change the views visible to their production operators on the factory floor.

If you are new too our site I suggest you go to our contact page HERE and send us an email so we can assist you

If you are just looking for OEE information then maybe you should look at our OEE info pages.

WHY OEE ?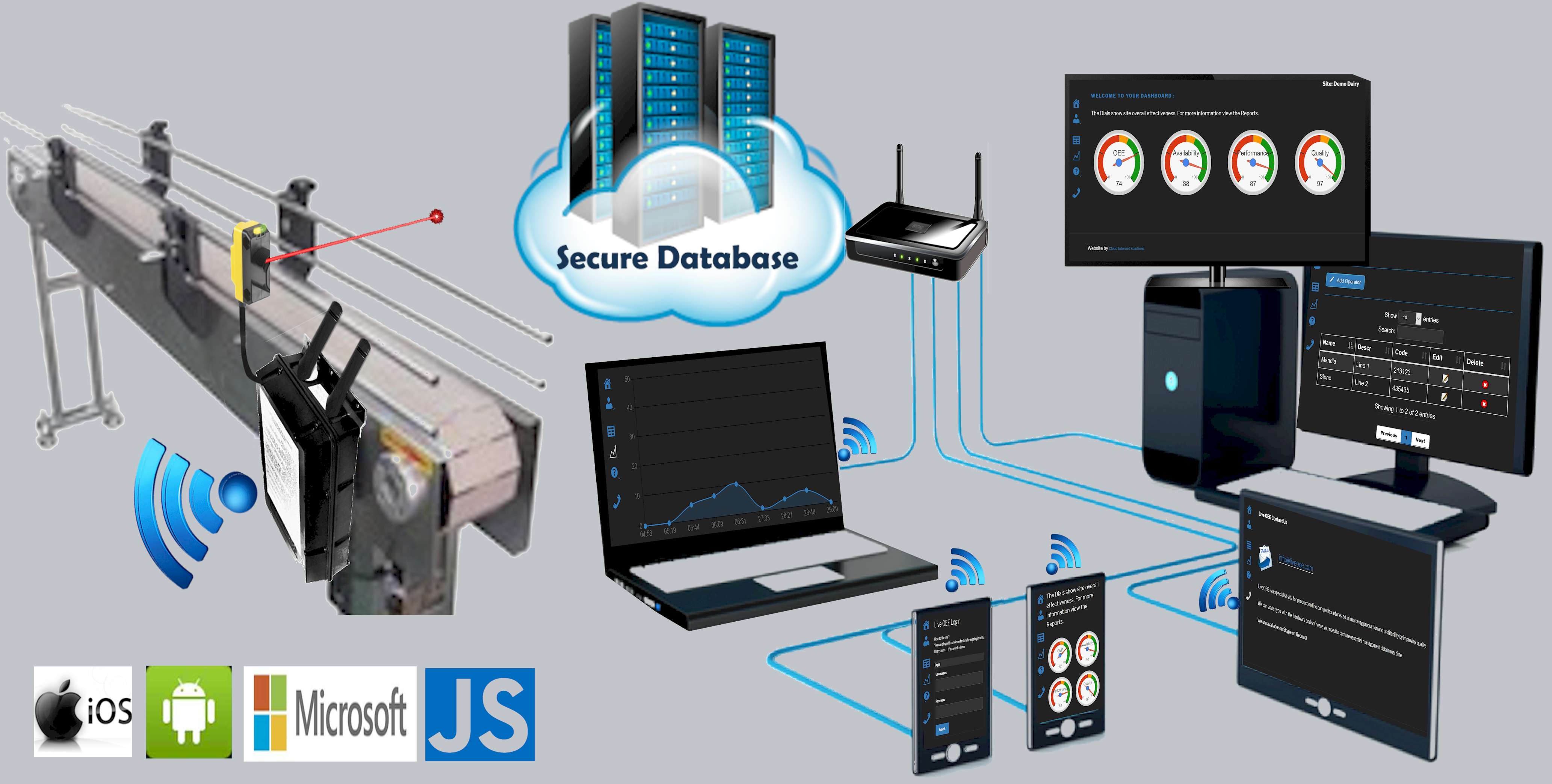 When manufacturing companies run up against capacity problems today, they immediately look to increase overtime, add shifts, or purchase new equipment.
Instead they should look to optimize the performance of their existing machines to increase equipment reliability, minimize changeover times, improve operator performance, and lower overall downtime. All these investments can be made to increase capacity and will pay greater dividends by allowing a manufacturing plant to spend its valuable time and money on their manufacturing process instead of new machine purchases.
 "How can we optimize the performance of their existing  quipment?"
The answer is Overall Equipment Effectiveness (OEE).
OEE is an effective tool to benchmark, analyze, and improve your production process. The OEE tool gives you the ability to measure your machines for productivity improvements. OEE not only measures these inefficiencies but groups them into three categories to help you analyze the machine and have a better understanding of the manufacturing process.
Here is a list of common concerns of many manufacturing companies:
Reducing Bottlenecks – Increase Throughput
Implementing Machine Operator Training
Reducing Machine Setup Time
Improving Machine Reliability – Implement Preventive Maintenance
Maximizing Optimal Run Rates and Capacity
Eliminating Down Time – Provide Down Time Reason Codes
Putting this tool in place to address these concerns and improve the manufacturing
process can be very time consuming and costly.
LIVE OEE has designed a system to help with this process.
The LiveOEE allows the whole plant to be involved in the process of improving OEE. From the machine operator to the production manager to the plant manager, this production monitoring solution visualizes information that can help everyone recommend solutions.
The bottom line for all employees should be to reduce production losses and build profitable products.
The Live OEE provides production managers and machine operators with the
necessary real time information to make crucial decisions about the effectiveness of the
production process. Machine operators get a first hand look at the production process
and the key information of the machine by viewing the data on the Live OEE.
Instead of manually recording this data for end of shift results, the machine operator can
monitor, analyze, and improve their process in real time throughout the day.
A truly comprehensive OEE solution will provide machine operators and production
managers with continual line notification and control so that actions can be taken to
prevent events that can result in downtime, slower cycle speeds, and poor product quality.
This system should also provide a way for operators to capture codes or comments about
the production process to review and analyze later during root cause analysis meetings.
The Live OEE provides all these features to help implement a OEE solution.
Measuring the efficiencies of your machine operators and equipment can yield significant results for your company.
We call it OEE because of the design of the self contained Live OEE.
With no software to install and the data source formulas programmed into the Live OEE System, all you have to do is select the functionality of the application from drop down menus.
You install the inputs, select the data sources and the Live OEE will take care
of the rest
Breaking Internetional News: 2017-04-27 15:02:03
Trump's race to do something before 100-day deadline

The first 100 days is not just about the new President.

Nuclear tests will never stop, North Korean official tells CNN

A loud explosion hit close to the Damascus International Airport in Syria Thursday, according to the London-based Syrian Observatory for Human Rights.

Trump reverses course on free trade agreement

President Donald Trump told the leaders of Canada and Mexico Wednesday he was not immediately planning to end the North American Free Trade Agreement, a pact which he railed against as a candidate and as recently as last week declared was harmful to US workers.

Bollywood's 'original heartthrob' dies

Veteran Indian actor Vinod Khanna has died at the age of 70, according to CNN affiliate, News 18.

How the Kim dynasty has shaped North Korea

Kim Jong Un, his father and grandfather have ruled North Korea since 1948, steering the country through war, famine and nuclear tests.

Photographing the US President

A factory that produces tumble dryers has become the dirtiest battlefield yet in the French presidential election.

How Harry Potter made its way into the UK election

British Foreign Secretary Boris Johnson stepped into the UK election fray Thursday with an editorial describing Labour leader Jeremy Corbyn as a "mutton-headed old mugwump."

Trump and Kim have something in common -- neither wants war

The funny thing about tension on the Korean Peninsula is that the further away from it one is, the closer to war it appears.

Mexican woman lived as a slave for 30 years

For a woman of 43, Guadalupe Pérez Castillo seems extremely shy. Meeting new people is still a challenge for her. She has a tendency to look down when talking to others and constantly rubs her hands while speaking, as if she were nervous.

American 'convert' who lived in ISIS territory detained

An American and his family who were living in territory held by ISIS in Syria have been detained in Turkey, a senior Turkish official told CNN.

Venezuela says it's leaving the Organization of American States

Venezuela will withdraw from the Organization of American States (OAS), according to its foreign minister, who announced the decision on national television.

France: We've got proof Assad was behind chemical attack

France has said that it has proof that the Syrian government was behind a chemical weapons attack in Syria earlier this month that killed 89 people.

Erdogan shuns West with Syria strikes

Turkish President Recep Tayyip Erdogan is feeling bold.

Hiker found alive after seven weeks lost in Himalayas

Two Taiwanese hikers have been found after going missing in Nepal for almost seven weeks, but one had died three days before help arrived.

10 things United is doing to avoid another passenger fiasco

A Russian lawyer investigating an alleged $230 million money-laundering scheme nearly died in March after he fell from his fourth floor apartment in Moscow. CNN's Drew Griffin reports.

Toddler survives being run over twice

A toddler survives being run over twice in a row on a busy street in China.

Bride of ISIS: From 'happily ever after' to hell

Islam and Ahmed met online, looking for their "happily ever after" through a Muslim dating site.

Netflix finally finds a way into China

Filmmaker Jonathan Demme, whose Oscar-winning thriller "The Silence of the Lambs" terrified audiences and introduced one of the most indelible villains in movie history, died Wednesday morning in New York. He was 73.

What an energy drink can do to your body

Energy drinks may be popular -- the global energy drink market was worth $39 billion in 2013 and is forecast to reach $61 billion by 2021 -- but they have gotten a bad rep among health experts.

How much would fictional houses cost in real life?

From Great Gatsby's luxury estate to Count Dracula's Transylvanian lair and Amelie Poulain's tiny Parisian pad, the houses in which our favorite fictional characters reside are often inspired by real-life properties.