Live OEE

OEE is the PULSE of your business
This site is a portal for our clients to login to the OEE Software to view their live  production line data, overall factory effectiveness & history reports specific to the factory, production line, product, operator, processes and more.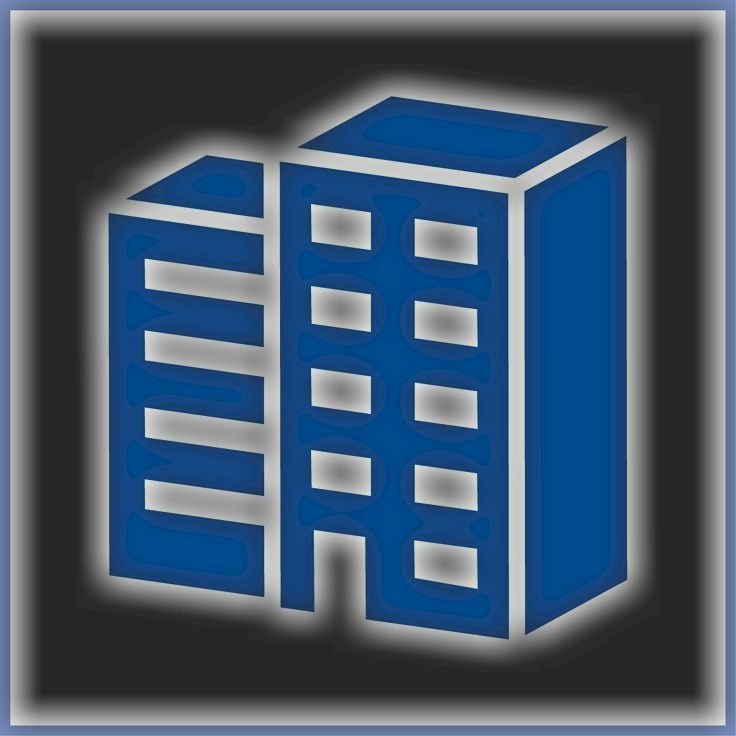 Our Head Offices are based in New Zealand & South Africa but our system can be used anywhere in the world and is very easy to setup yourself.
If you would like a free onsite demonstration go to our contact page HERE and send us an email so we can arrange to demonstrate this system on one of your production lines.
Or else you can have a look at our demo factory by logging in with:
Username: demo | Password: demo
Products That We Offer
Operator Console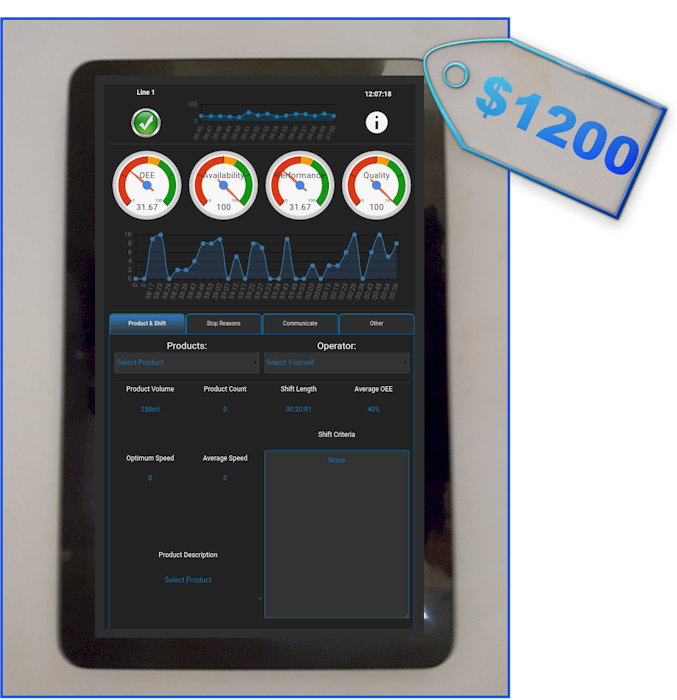 This 10″ android tablet will be in kiosk mode so the android user operating system will not be accessible and the tablet will be housed inside a water resistant stainless steel housing in portrait orientation. If you want a larger size operator consoles it can be custom built to your specifications at an additional cost. You will need only 1 Operator Console on each production line.
login to the demo site to get a better look.
Product Counter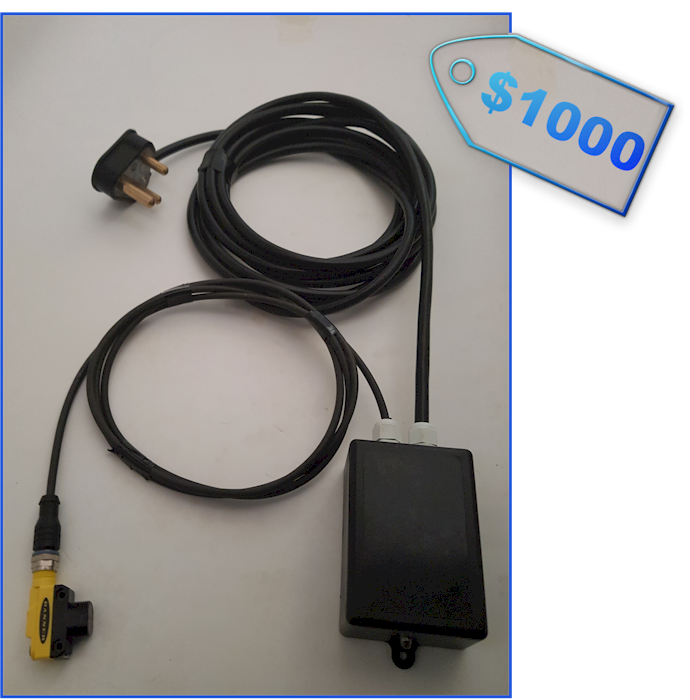 This device is water resistant! You will need a minimum of 1 Product Counter on each production line. If you have 2 Product Counters on each line then Quality is automatically calculated. If this is not currently feasible then operators will need to manually input discarded products into the Operator Console. You can always upgrade later on. Product Counters Even Have Built In Range Extenders To Increase WiFi Coverage.
Local Server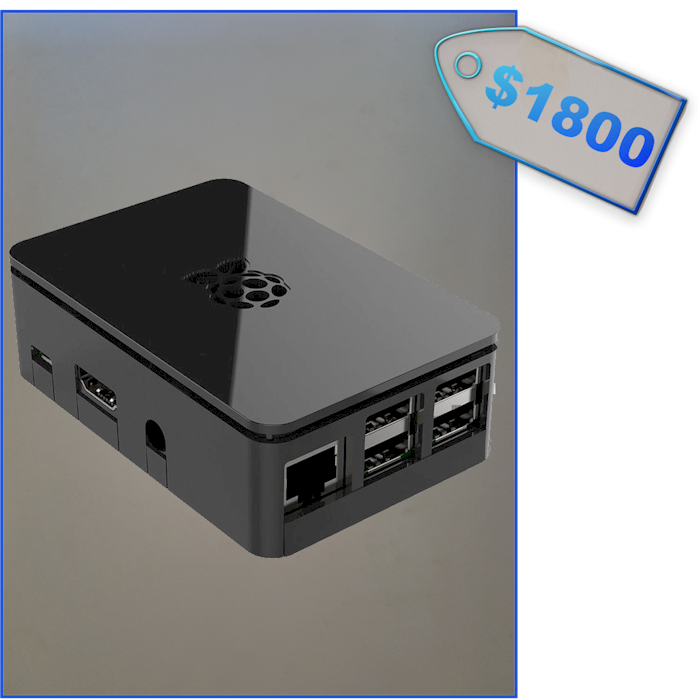 If you have a poor unreliable internet connection then a local server is strongly recommended as an optional extra. Even if you have a good internet connection it is better to have a local server because the entire system will be able to run faster and more reliably.
Visual Display Box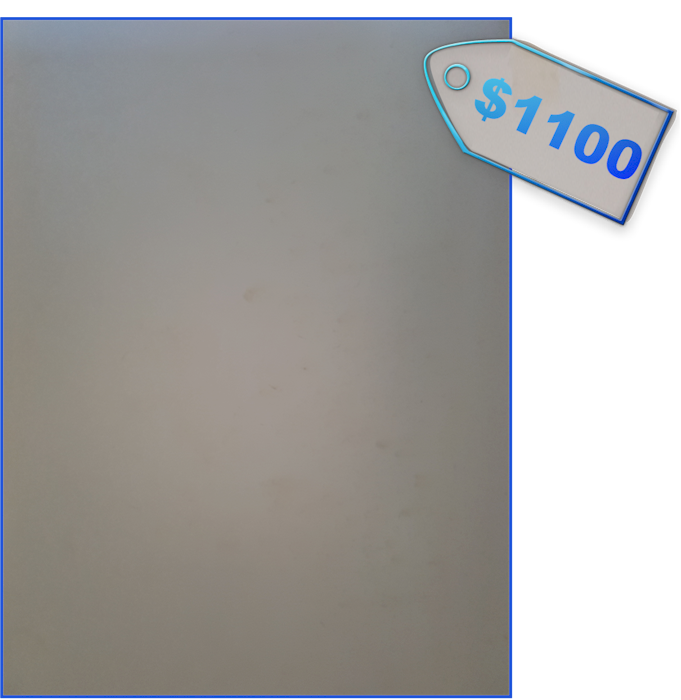 Lets say you already have a TV or projector in your boardroom or factory(within WiFi signal), just plug this USB into the USB port(this powers the device) and then plug the HDMI into the HDMI port and now you will have a live visual display. If you want this at home or on another premises then ask us for the Online Visual Display Box. These devices are water resistant!
WiFi Range Extender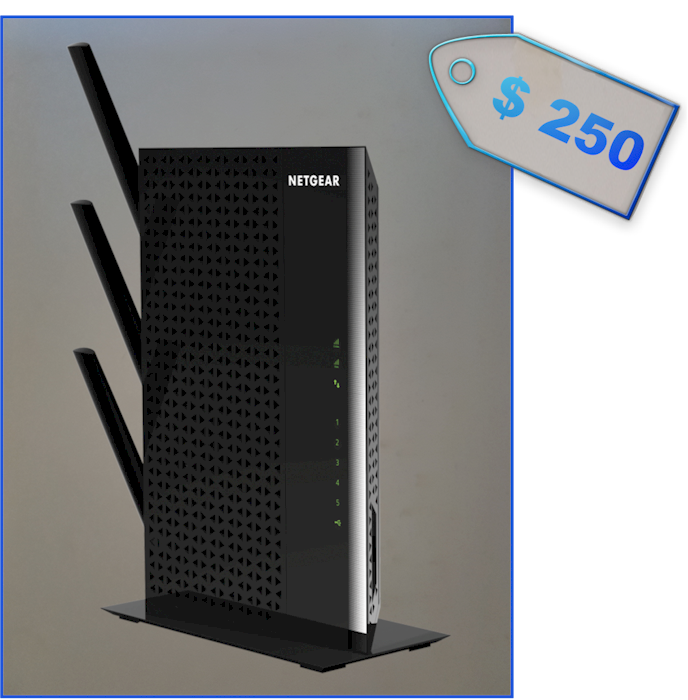 Nighthawk Dual-Band Gigabit Wi-Fi Range Extender enables you to extend the wireless signal between devices by up to 10,000 sq. ft. with speeds up to 1900 Mbps. Product Counters have built in range extenders so it is possible that you might not need this device however you cant use your own WiFi extender as the entire system is in a closed secure network. This device is shipped with correct network security to allow you to extend you signal by simply plugging it in.
To purchase these products please contact us directly. Please note that the Product Counters incur a monthly fee for the license to use them within our system and for the following online package that enables all history records to be backed up on multiple secure servers with unlimited disk-space & unlimited bandwidth. The monthly fee is priced as follows:

1 – 2 Product Counters is $80 ea p/m

3 – 4 Product Counters is $70 ea p/m

5 – 9 Product Counters is $60 ea p/m

10-19 Product Counters is $50 ea p/m

20- ∞ Product Counters is $30 ea p/m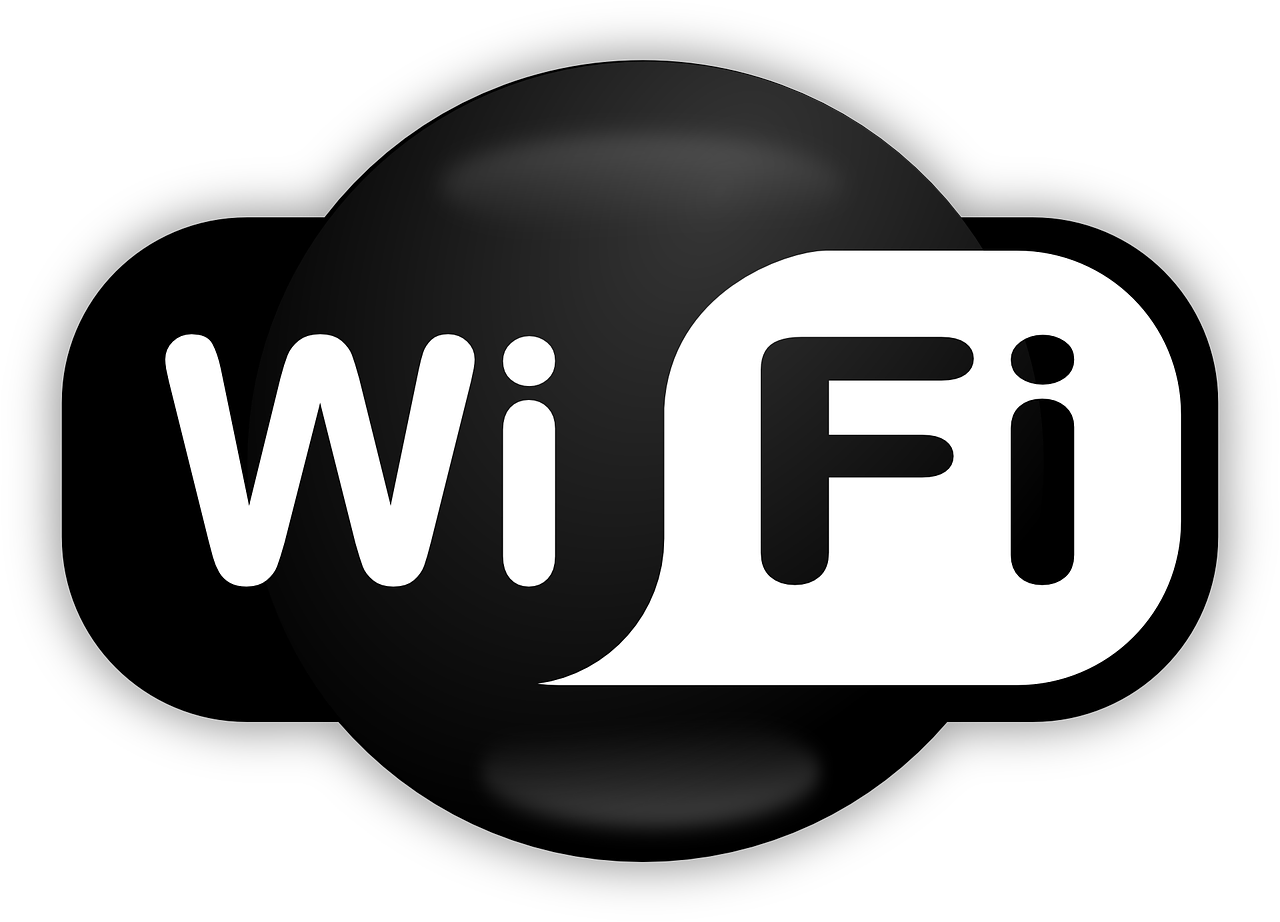 All OEE Software Products Communicate via WiFi
View OEE From Your Office, Board Room or Factory Floor
Existing/New Tvs or Projectors may be used to display live details!
Stay In Control Even When You Not Onsite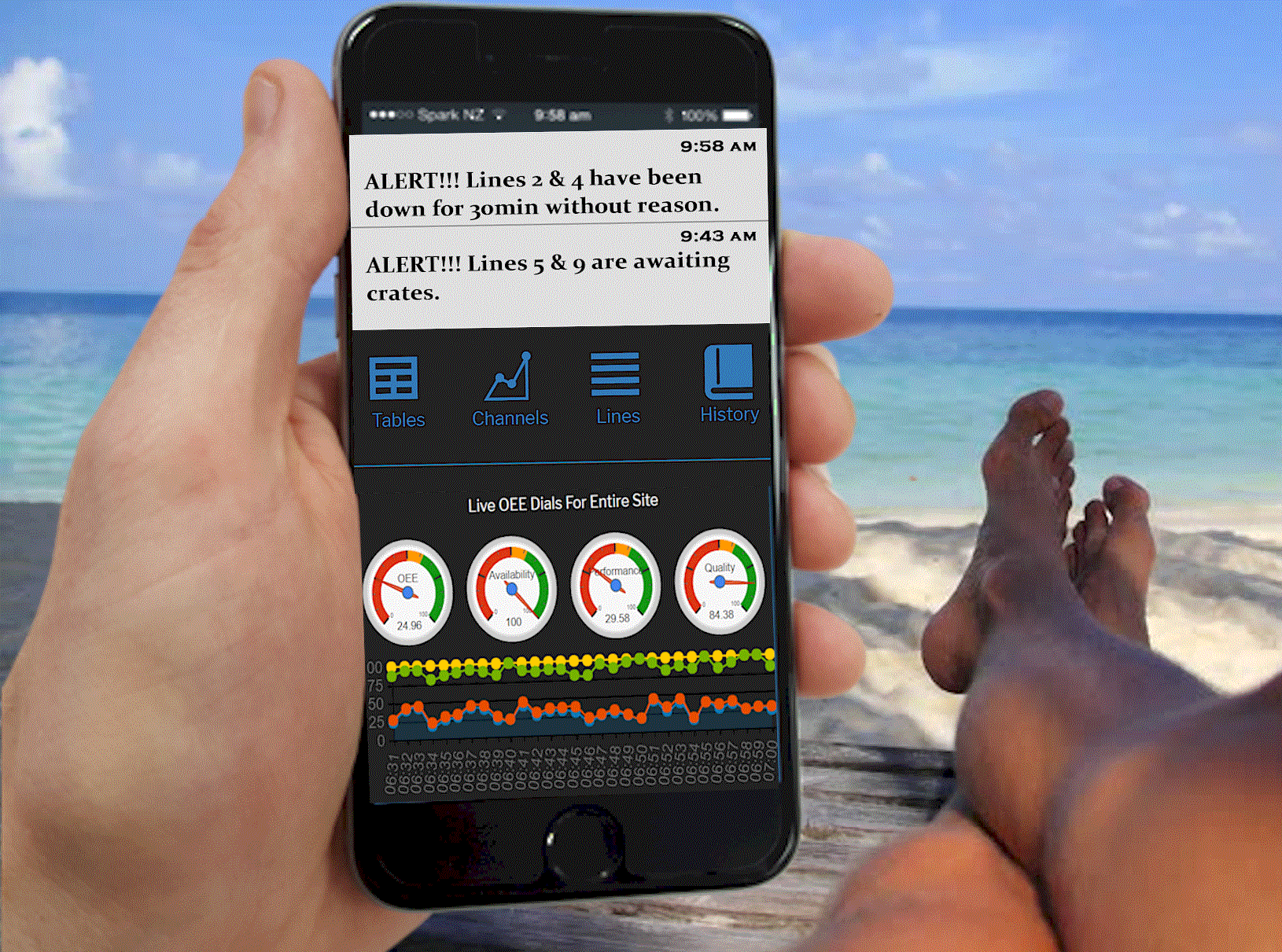 This system works on ALL platforms!!
System Overview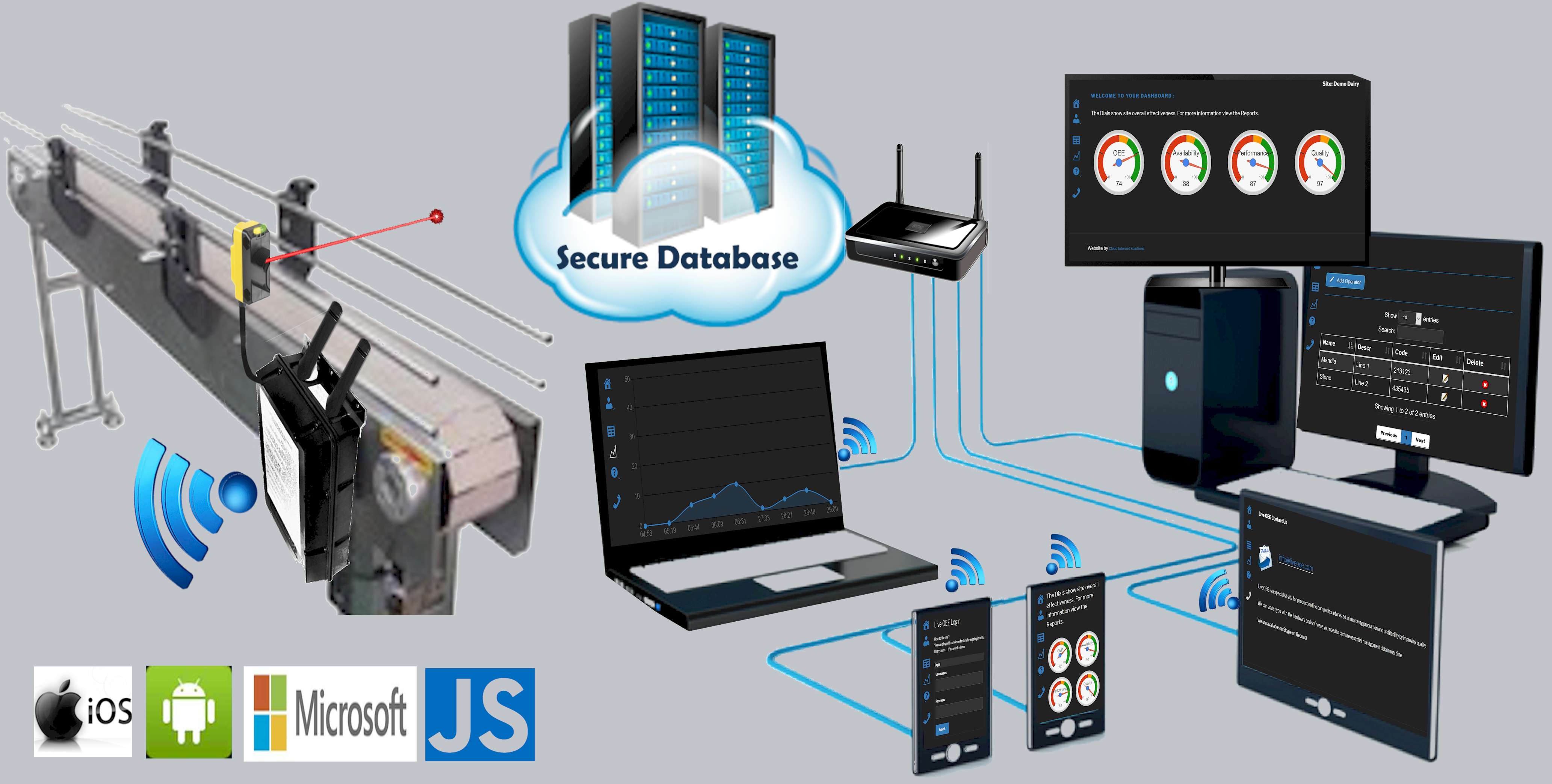 Why OEE
When manufacturing companies run up against capacity problems today, they immediately look to increase overtime, add shifts, or purchase new equipment.
Instead they should look to optimize the performance of their existing machines to increase equipment reliability, minimize changeover times, improve operator performance, and lower overall downtime. All these investments can be made to increase capacity and will pay greater dividends by allowing a manufacturing plant to spend its valuable time and money on their manufacturing process instead of new machine purchases.
 "How can we optimize the performance of their existing  equipment?"
The answer is Overall Equipment Effectiveness (OEE).
Live OEE is an effective tool to benchmark, analyze, and improve your production process. This OEE Software System gives you the ability to measure your machines for productivity improvements. OEE not only measures these inefficiencies but groups them into three categories to help you analyze the machine and have a better understanding of the manufacturing process.

Here is a list of common concerns of many manufacturing companies:
Reducing Bottlenecks – Increase Throughput
Implementing Machine Operator Training
Reducing Machine Setup Time
Improving Machine Reliability – Implement Preventive Maintenance
Maximizing Optimal Run Rates and Capacity
Eliminating Down Time – Provide Down Time Reason Codes
Putting this system in place to address these concerns and improve the manufacturing process can be very time consuming and costly.
Live OEE allows the whole plant to be involved in the process of improving OEE. From the machine operator to the production manager to the plant manager, this production monitoring solution visualizes information that can help everyone recommend solutions.
The bottom line for all employees should be to reduce production losses and build profitable products.
The Live OEE Software provides production managers and machine operators with the necessary real time information to make crucial decisions about the effectiveness of the production process. Machine operators get a first hand look at the production process and the key information of the machine by viewing the data on the Console OEE Software.
Instead of manually recording this data for end of shift results, the machine operator can monitor, analyze, and improve their process in real time throughout the day.
A truly comprehensive OEE Software solution will provide machine operators and production managers with continual line notification and control so that actions can be taken to
prevent events that can result in downtime, slower cycle speeds, and poor product quality.
This system should also provide a way for operators to capture codes or comments about the production process to review and analyze later during root cause analysis meetings.
The OEE Software provides all these features to help implement a OEE solution.
Measuring the inefficiencies of your machine operators and equipment can yield significant results for your company.
With no software to install and the data source formulas programmed into the Live OEE System, all you have to do is select the functionality of the application from drop down menus.
You install the inputs, select the data sources and the Live OEE Software will take care of the rest.
Breaking Internetional News: 2017-08-20 03:51:01
USS Indianapolis, sunk after atomic bomb mission, is found

It's been 72 years since the USS Indianapolis went missing after a Japanese submarine torpedoed it in the final days of World War II.

International manhunt for Barcelona attack suspect

Even if you've never heard of it, Helvetica has been part of your life.

Inside the infamous Versace home

Ocean Drive is one of the most iconic and most photographed stretches of Miami Beach.

Vietnam vet searching for people in 1970s photos

My dad's first Instagram post went up on January 10, 2015.

Why futuristic '60s homes failed

Why aren't more of us choosing to holiday in plastic cabins?

Aston Martin draws record $22.6 million at auction

In southern Lebanon, near the border with Israel, lies a distinctive orange house.

In Russia, this job can be a death sentence

According to a recent survey, 72% of Americans think coconut oil is a healthy food.

Becoming a jockey ... in 1 month

Coming from an equestrian background I have ridden all my life but never racehorses.

Watching whales and icebergs -- and football?

It's not often you get to glimpse icebergs and whales while watching a game of soccer, but that's only one of the reasons why the Greenlandic football season is one of the sport's most unusual.

Feeling the squeeze? Stop buying brands

Water, fire and ice have combined to make some of the most spectacular scenery in the world -- from giant crystal caves to mud volcanoes and rock formations that look like works of art.

Why asthma is on the rise in older adults

In early June, Donna Bilgore Robins stood on a patio in Beaver Creek, Colo., under a crystal-clear blue sky and tried to catch her breath.

Are probiotics safe?

Probiotic supplements may be a growing trend among health-conscious consumers, but the tiny bacteria that have been stuffed into capsules and stacked on pharmacy shelves coexisted with us before we were even aware of them.

See USS Indianapolis on Pacific Ocean floor

The remains of the USS Indianapolis, which delivered parts of the atomic bomb dropped on Hiroshima, and was later sunk by a Japanese submarine, have been found.

2015: Japanese battleship found near Philippines

Microsoft co-founder Paul Allen says he has found the wreck of a long-lost World War 2 Japanese battleship near the Philippines.

Trump applauds protesters 'speaking out against bigotry'

President Donald Trump tweeted his support for the Boston Police Department's handling of a self-described free speech rally and counterprotest march that brought thousands to the city's downtown Saturday, adding that he applauded "the many protestors in Boston who are speaking out against bigotry and hate."

Spain bomb factory probed for clues as police hunt attack driver

It was an act of protest in form and function.

Indian video mocks Xi after 'racist' clip

It's a sight you'd expect to see in a colonial-era comedy act or a bad improvisation on the darkest corners of YouTube.

Look closer: This is not a photo

Photorealism -- the process of replicating a photograph through a different medium -- was once considered a fad, but the 1970s arts movement has stood the test of time.

World's most livable city revealed

It's official. Melbourne is on top of the world -- again.