Live OEE

OEE is the PULSE of your business
This site is a portal for our clients to login to the OEE Software to view their live  production line data, overall factory effectiveness & history reports specific to the factory, production line, product, operator, processes and more.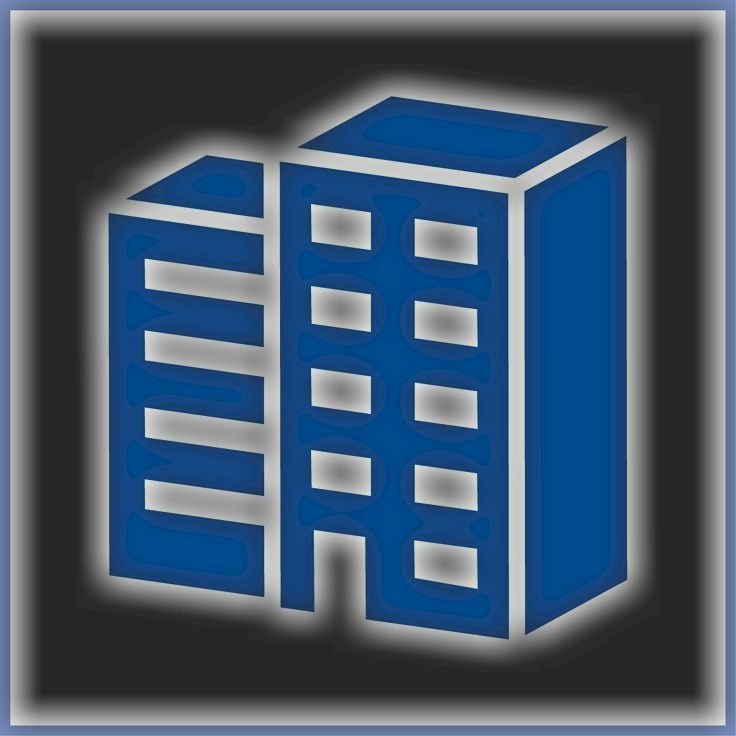 Our Head Offices are based in New Zealand & South Africa but our system can be used anywhere in the world and is very easy to setup yourself.
If you would like a free onsite demonstration go to our contact page HERE and send us an email so we can arrange to demonstrate this system on one of your production lines.
Or else you can have a look at our demo factory by logging in with:
Username: demo | Password: demo
Products That We Offer
Operator Console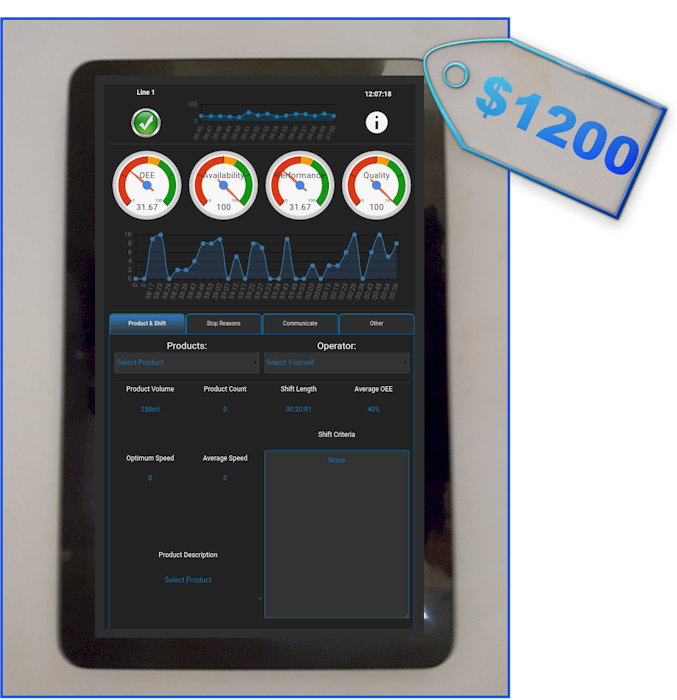 This 10″ android tablet will be in kiosk mode so the android user operating system will not be accessible and the tablet will be housed inside a water resistant stainless steel housing in portrait orientation. If you want a larger size operator consoles it can be custom built to your specifications at an additional cost. You will need only 1 Operator Console on each production line.
login to the demo site to get a better look.
Product Counter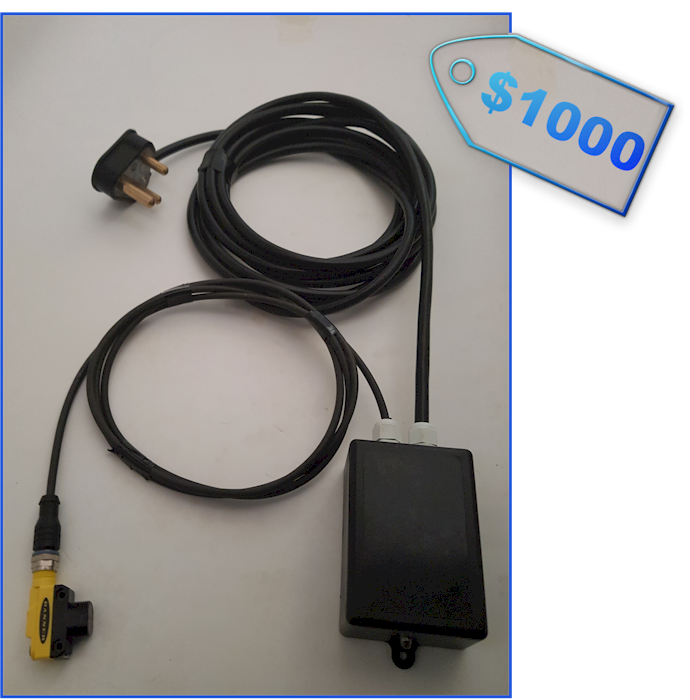 This device is water resistant! You will need a minimum of 1 Product Counter on each production line. If you have 2 Product Counters on each line then Quality is automatically calculated. If this is not currently feasible then operators will need to manually input discarded products into the Operator Console. You can always upgrade later on. Product Counters Even Have Built In Range Extenders To Increase WiFi Coverage.
Local Server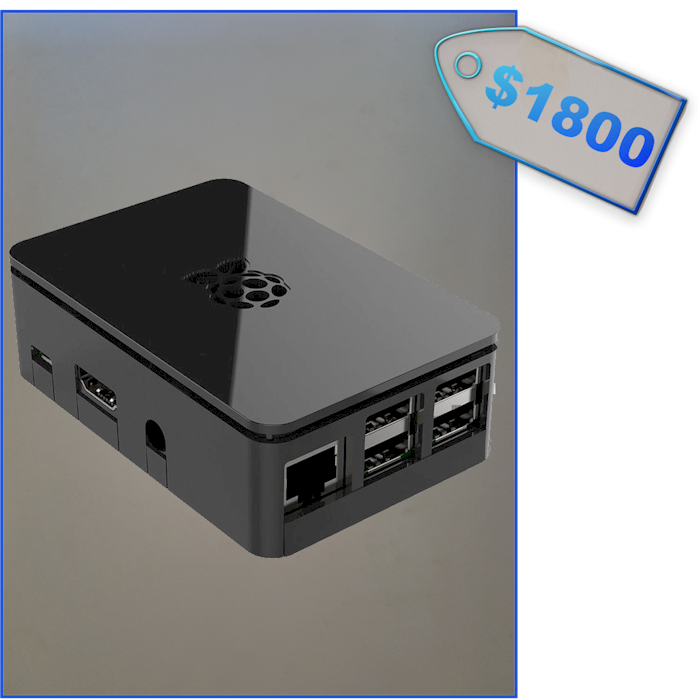 If you have a poor unreliable internet connection then a local server is strongly recommended as an optional extra. Even if you have a good internet connection it is better to have a local server because the entire system will be able to run faster and more reliably.
Visual Display Box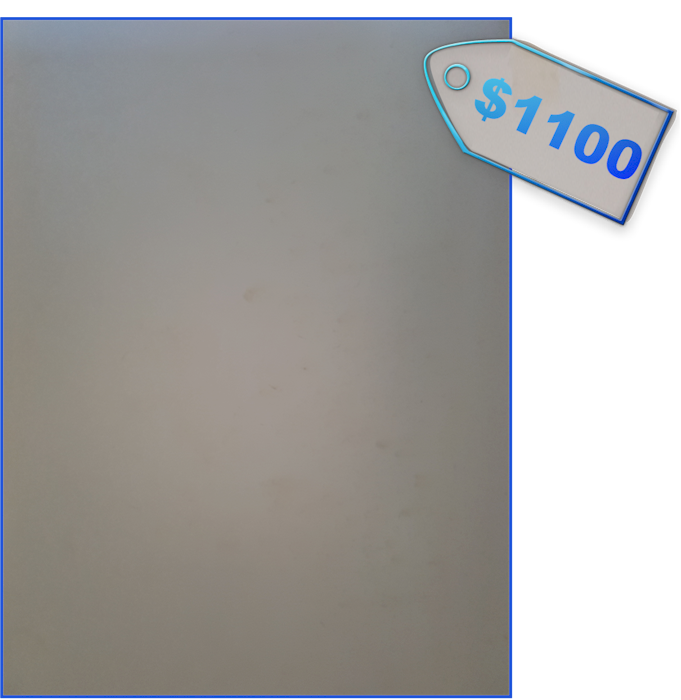 Lets say you already have a TV or projector in your boardroom or factory(within WiFi signal), just plug this USB into the USB port(this powers the device) and then plug the HDMI into the HDMI port and now you will have a live visual display. If you want this at home or on another premises then ask us for the Online Visual Display Box. These devices are water resistant!
WiFi Range Extender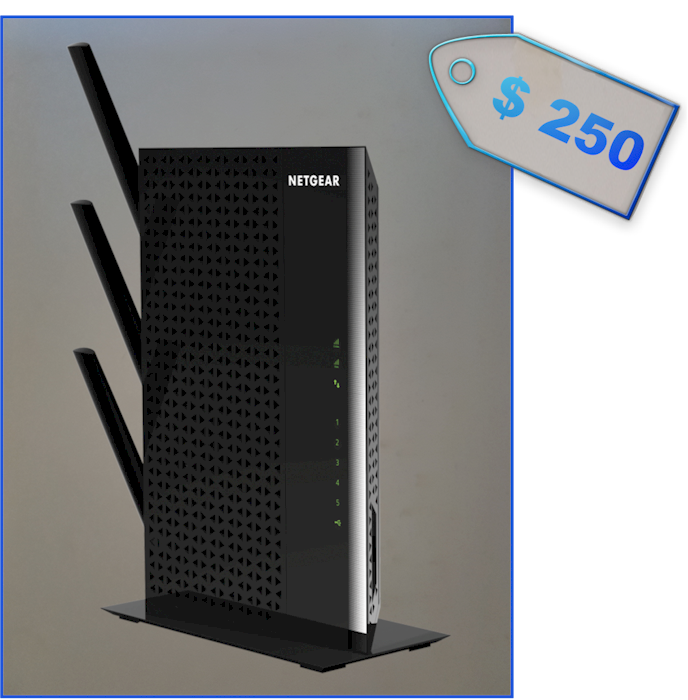 Nighthawk Dual-Band Gigabit Wi-Fi Range Extender enables you to extend the wireless signal between devices by up to 10,000 sq. ft. with speeds up to 1900 Mbps. Product Counters have built in range extenders so it is possible that you might not need this device however you cant use your own WiFi extender as the entire system is in a closed secure network. This device is shipped with correct network security to allow you to extend you signal by simply plugging it in.
To purchase these products please contact us directly. Please note that the Product Counters incur a monthly fee for the license to use them within our system and for the following online package that enables all history records to be backed up on multiple secure servers with unlimited disk-space & unlimited bandwidth. The monthly fee is priced as follows:

1 – 2 Product Counters is $20 ea p/m

3 – 5 Product Counters is $15 ea p/m

5 – 10 Product Counters is $12 ea p/m

11 – ∞  Product Counters is $10 ea p/m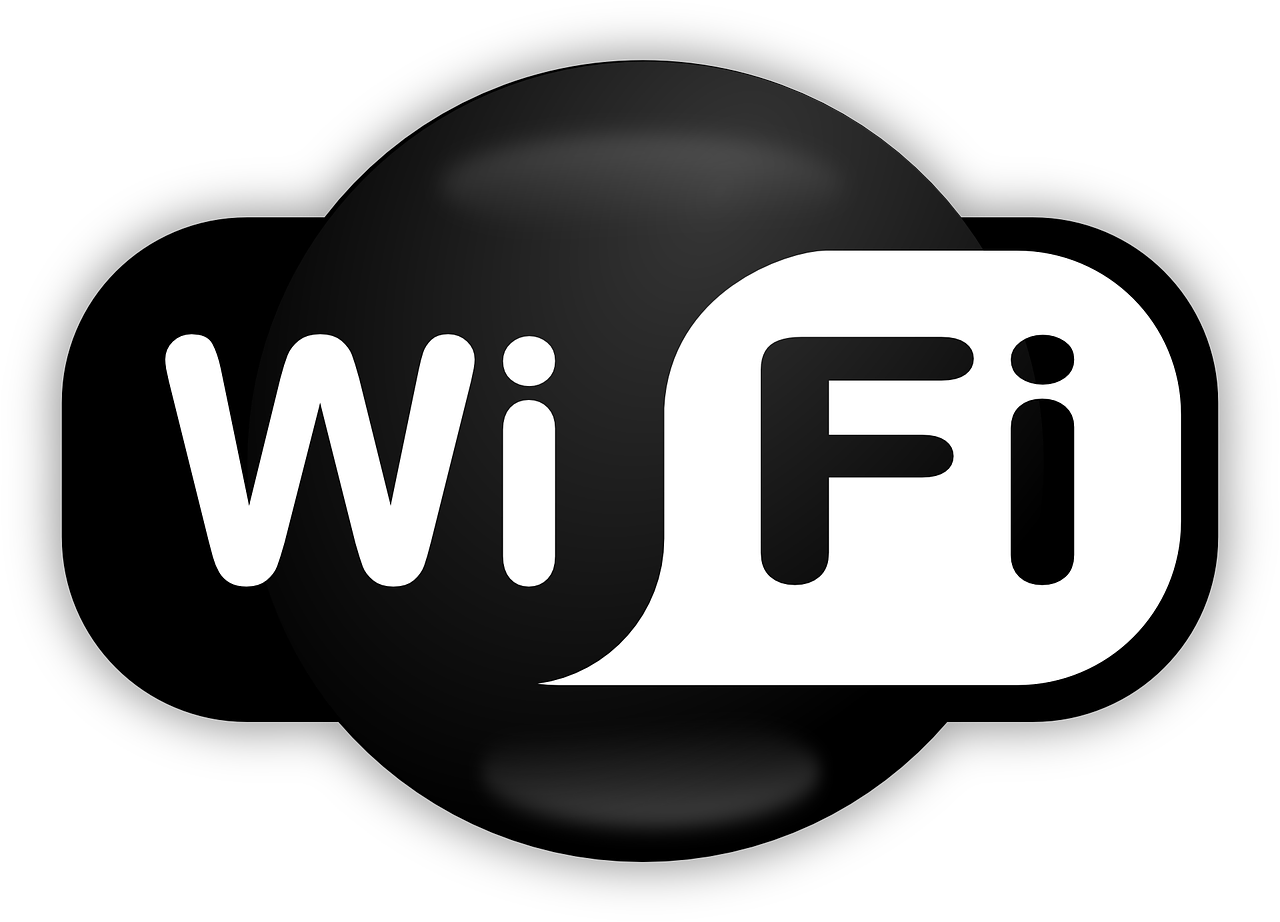 All OEE Software Products Communicate via WiFi
View OEE From Your Office, Board Room or Factory Floor
Existing/New Tvs or Projectors may be used to display live details!
Stay In Control Even When You Not Onsite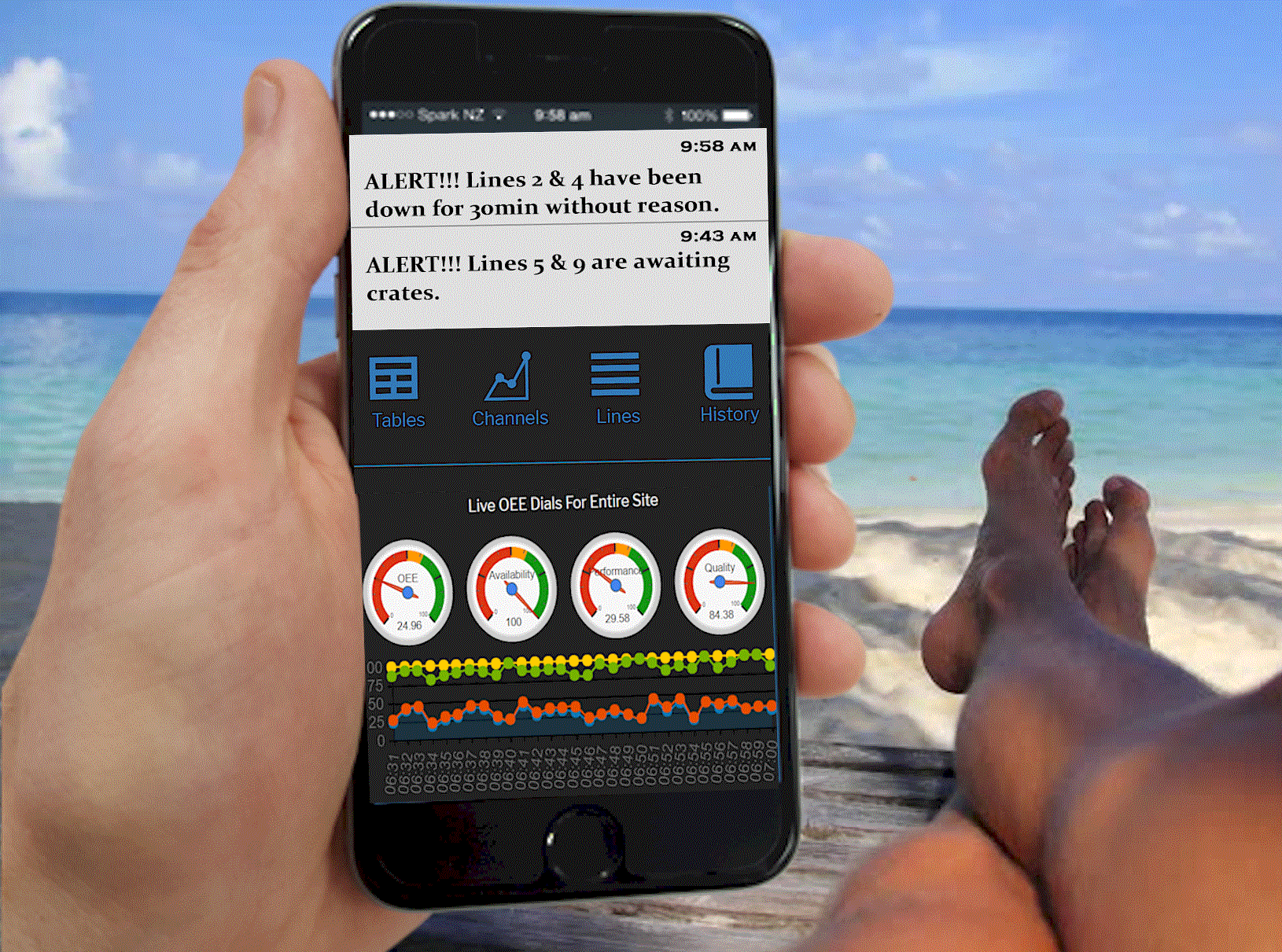 This system works on ALL platforms!!
System Overview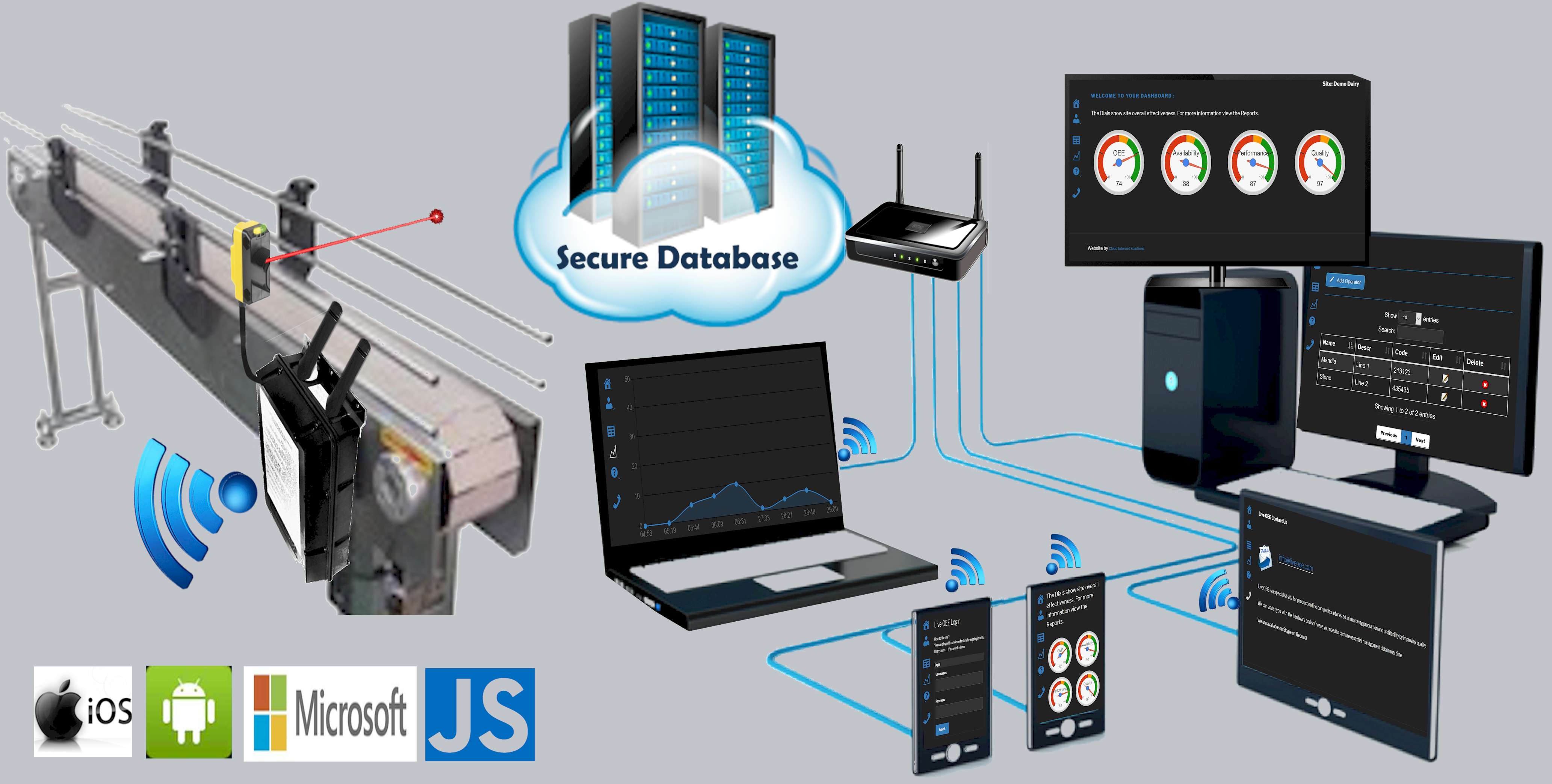 Why OEE
When manufacturing companies run up against capacity problems today, they immediately look to increase overtime, add shifts, or purchase new equipment.
Instead they should look to optimize the performance of their existing machines to increase equipment reliability, minimize changeover times, improve operator performance, and lower overall downtime. All these investments can be made to increase capacity and will pay greater dividends by allowing a manufacturing plant to spend its valuable time and money on their manufacturing process instead of new machine purchases.
 "How can we optimize the performance of their existing  equipment?"
The answer is Overall Equipment Effectiveness (OEE).
Live OEE is an effective tool to benchmark, analyze, and improve your production process. This OEE Software System gives you the ability to measure your machines for productivity improvements. OEE not only measures these inefficiencies but groups them into three categories to help you analyze the machine and have a better understanding of the manufacturing process.

Here is a list of common concerns of many manufacturing companies:
Reducing Bottlenecks – Increase Throughput
Implementing Machine Operator Training
Reducing Machine Setup Time
Improving Machine Reliability – Implement Preventive Maintenance
Maximizing Optimal Run Rates and Capacity
Eliminating Down Time – Provide Down Time Reason Codes
Putting this system in place to address these concerns and improve the manufacturing process can be very time consuming and costly.
Live OEE allows the whole plant to be involved in the process of improving OEE. From the machine operator to the production manager to the plant manager, this production monitoring solution visualizes information that can help everyone recommend solutions.
The bottom line for all employees should be to reduce production losses and build profitable products.
The Live OEE Software provides production managers and machine operators with the necessary real time information to make crucial decisions about the effectiveness of the production process. Machine operators get a first hand look at the production process and the key information of the machine by viewing the data on the Console OEE Software.
Instead of manually recording this data for end of shift results, the machine operator can monitor, analyze, and improve their process in real time throughout the day.
A truly comprehensive OEE Software solution will provide machine operators and production managers with continual line notification and control so that actions can be taken to
prevent events that can result in downtime, slower cycle speeds, and poor product quality.
This system should also provide a way for operators to capture codes or comments about the production process to review and analyze later during root cause analysis meetings.
The OEE Software provides all these features to help implement a OEE solution.
Measuring the inefficiencies of your machine operators and equipment can yield significant results for your company.
With no software to install and the data source formulas programmed into the Live OEE System, all you have to do is select the functionality of the application from drop down menus.
You install the inputs, select the data sources and the Live OEE Software will take care of the rest.
Breaking Internetional News: 2017-06-24 03:50:02
Saudis foil attack on Grand Mosque in Mecca

Saudi security forces on Friday prevented an imminent attack on the Grand Mosque in Mecca, the country's Interior Ministry said on state-run TV.

Hundreds of households to be evacuated in wake of London tower fire

Some 800 households will be evacuated Friday night in the Camden area of London, according to Councillor Georgia Gould, leader of Camden Council.

Ex-Obama official: Handling of Russia 'is hardest thing to defend,' WaPo reports

Saudi Arabia plans to shell out tens of millions of dollars to stem an outbreak of cholera in Yemen, spawned amid the military offensive it's spearheading there against the Houthi rebels.

White House responds to Comey tape inquiry with Trump tweet

The White House is letting President Donald Trump's tweet Thursday -- asserting that he had not taped former FBI Director James Comey -- stand as the President's official statement.

White House banned cameras, so CNN sent a sketch artist

Bristol County prosecutors officially asked to reinstate Aaron Hernandez's murder conviction on Friday, arguing in court documents that the former NFL player's suicide should not lead to dismissal of the guilty verdict.

Turkey to stop teaching evolution in high school

Turkish high school students will no longer be taught the theory of evolution.

Violent homophobia festers in Erdogan's shadow

Inside the capacious Hamburg Messe conference hall next month, President Donald Trump will come face-to-face with the man whose shadow has darkened much of his presidency: Vladimir Putin.

Violent protests spread in India's Darjeeling tea lands

The sleepy hills of India's northeast have erupted into violence, as calls for a separate state for the area's Nepali-speaking Gorkhas gain traction.

Air Force 'doomsday' planes damaged in tornado

Ten US Air Force planes, including two E-4B "doomsday" aircraft, were damaged when a tornado hit near Offutt Air Force Base in Nebraska last week, the service told CNN on Friday.

South Korea's new presidential pooches, and why they matter

When South Korea's new president Moon Jae-in took up residency in the Blue House last month, his choice of pets raised some eyebrows.

Qatar given 10 days to comply with 13 demands from Arab states

CNN's Frederik Pleitgen takes a look at the controversies surrounding this global news network based in Qatar.

Is Mexico as dangerous as Trump says?

President Donald Trump rankled Mexico again, this time calling it the second deadliest country in the world.

Refrigerator identified as source of deadly London fire

It's been a blistering week in London, with little shade from the sun or the news.

US releases dramatic photos of 'unsafe' Russian jet intercept

US European Command released dramatic photos on Thursday that show the moment a Russian Su-27 fighter jet flew within five feet of a US Air Force RC-135 reconnaissance aircraft over the Baltic Sea -- an encounter US officials assessed to be "unsafe."

May's Brexit divorce deal branded 'not sufficient'

British Prime Minister Theresa May's plans to secure the rights of EU nationals after Brexit have been criticized as "not sufficient," by the head of the European Commission.

Finsbury Park attack suspect charged with terrorism-related murder

Police in London have charged a man with terrorism-related murder and attempted murder over an attack outside a mosque in Finsbury Park earlier this week.

No break for Britain: 5 tragedies in 3 months

A 22-year-old protester died after being shot three times in the chest by a national guard at point blank range in Caracas, Venezuela.

White House-media relations at breaking point

Even before Johnny Depp said it, the actor seemed to know that his comment would ignite controversy.

North Korea: Otto's death 'is a mystery to us'

Days after the death of US student Otto Warmbier following 17 months detention in North Korea, the country's state media claimed his death was a "mystery."

Car bomb kills 11 at police checkpoint

At least 11 people, including one police officer, were killed Friday after a car bomb exploded outside the office of Quetta's Inspector General of Police.